OSHA REQUIRED SAFETY INSPECTIONS
Once a year, OSHA requires a comprehensive inspection of your electrical, mechanical, and pneumatic lifting devices.  Our certified technicians are equipped to handle these inspections at your facility.  Our complete documentation meets all OSHA standards.
COMPLETE REPAIR
Hupp Crane & Hoist has factory trained technicians on staff to repair all makes and models of hoists and cranes, whether it's a mechanical or electrical component.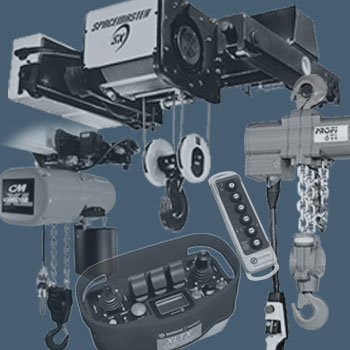 WARRANTY REPAIR CENTER FOR:
CM
Coffing
Budgit
Yale
JD Neuhaus
R & M
Harrington
PREVENTIVE MAINTENANCE PROGRAMS
Too busy to perform frequent PM inspections? Let Hupp Crane & Hoist give you a quote to provide a regularly scheduled maintenance program.
We are equipped to inspect, repair & load test:
Hand Chain Hoists
Lever Tools
Trolleys
Electric Chain Hoists
Electric Wire Rope Hoists
Material Handling Products
Air Hoists