Hupp Electric Motors is the premier industrial crane and hoist repair facility in the Midwest, and has operated since 1912. Hupp Electrics Crane and Hoist Division maintains a fleet of service trucks staffed with factory trained technicians experienced in inspections, troubleshooting, repairing, and installations of overhead crane systems. We are certified in Osha/ ASME Crane and Hoist Inspections. We offer periodic and frequent crane and hoist inspection services along with 24-hour emergency repair work.
Hupp Electrics Crane and Hoist division also offers complete turnkey systems from design to full installation and load testing. Hupp Electrics Crane and Hoist division has a wide variety of brands throughout the hoisting product portfolio. We have recently partnered with another long time leader in the industry, Uesco Cranes est. 1921. This new partnership has expanded our crane design and building capabilities. We represent the worlds leading manufacture of pneumatic hoists, JD Neuhaus est. 1745. With this partnership we can develop any solution to your pneumatic crane and hoist needs. Hupp Crane and Hoist adds to their diverse portfolio being authorized warranty and repair center for the R&M, CMCO, and Harrington line hoisting products. Contact us today!
OSHA REQUIRED SAFETY INSPECTIONS
Once a year, OSHA requires a comprehensive inspection of your electrical, mechanical, and pneumatic lifting devices.  Our certified technicians are equipped to handle these inspections at your facility.  Our complete documentation meets all OSHA standards.
COMPLETE REPAIR
Hupp Crane & Hoist has factory trained technicians on staff to repair all makes and models of hoists and cranes, whether it's a mechanical or electrical component.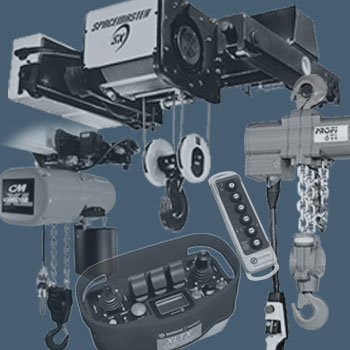 WARRANTY REPAIR CENTER FOR:
CM
Coffing
Budgit
Yale
JD Neuhaus
R & M
Harrington
PREVENTIVE MAINTENANCE PROGRAMS
Too busy to perform frequent PM inspections? Let Hupp Crane & Hoist give you a quote to provide a regularly scheduled maintenance program.
We are equipped to inspect, repair & load test:
Hand Chain Hoists
Lever Tools
Trolleys
Electric Chain Hoists
Electric Wire Rope Hoists
Material Handling Products
Air Hoists